Friday January 20th, 2023 – Washington DC
March for Life 2023 Schedule:
Philadelphia Pilgrims Mass: 10am-11am 
Pre-Rally Concert: 11am-12pm
March for Life Rally: 12pm-1pm
March for Life: 1pm-4pm
Please join us for the 50th annual March for Life on Friday, January 20,2023. The Archdiocese of Philadelphia has a long history of active participation in this most important national event in defense of innocent human life. Even with the blessing of Roe v. Wade being overturned, the necessary work to build a culture of life in the United States is not finished.
On Friday, January 20 a Holy Mass for the faithful of the Archdiocese of Philadelphia who are attending the March for Life will be celebrated at 10:00am at The Basilica of the National Shrine of the Immaculate Conception in Washington, DC. The liturgical music will be provided by students from Bishop Shanahan.
The March for Life Rally will begin at the National Mall at 12:00 noon. The meeting location for participants from the Archdiocese of Philadelphia is on the corner of Constitution Avenue and 6th Street – in front of the National Gallery of Art. We will process behind the Archdiocese of Philadelphia banner, which will be carried by Seminarians from Saint Charles Borromeo Seminary. The March for Life is scheduled to begin at 1:00pm.
Please view the map for the 
NEW ROUTE
 below taken from the March for Life 
website
: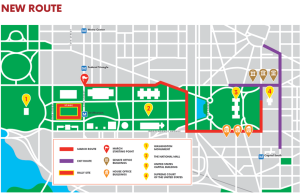 BUS LIST
Please contact respective bus captains if you are in need of seats to the March for Life:
COUNTY
PARISH/SCHOOL NAME
ADDRESS
BUS CAPTAIN NAME
BUS CAPTAIN EMAIL
NOTES
Philadelphia
Our Lady of Lourdes + Knights of Columbus
6315 E Lancaster Ave Phila, PA 19151
Tommy Riordon
jtlriordon@gmail.com
No cost for bus, donations welcome
Chester
Sacred Heart Church Oxford
205 Church Road Oxford, PA 19363
Dos Leach
dosleach@zoominternet.net 
Montgomery
St. Charles Borromeo Seminary
100 E WYNNEWOOD RD Wynnewood, PA 19096
Fr. Christopher Cooke
ccooke@scs.edu 
Montgomery
St Maria Gorreti
1601 Derstine Ave Hatfield pa 19440
Bob McCormick
bobmcc52@gmail.com 
Chester
SS Philip & James/ SS Peter & Paul
107 N. Ship Rd. Exton, Pa. 19341
Jim & JoAnn Carlin
jcarlin1970@comcast.net 
Montgomery
Villanova University
800 E. Lancaster Avenue Villanova, PA 19085
Sarah VanFleet
svanflee@villanova.edu 
Bucks
Saint Andrew parish
81 Swamp Road Newtown, PA 18940
Michael Phillips
mikeflips@yahoo.com 
Delaware
Cardinal O'Hara High School
1701 S. Sproul Road
Maria Parker
mparker@cohs.com 
Chester
St. Peter's Catholic Church
2835 Manor Rd West Brandywine, PA. 19320
Regina Cummings
regina_cmmngs@hotmail.com 
Bucks
Assumption BVM Church
1900 Meadowbrook Road Feasterville, PA 19053
Steve Jackson
sjjackson76@aol.com 
Chester
Bishop Shanahan High School
220 Woodbine Road Downingtown, PA 19335
Joseph Aquilante
jaquilante@shanahan.org 
Bucks
St Michael the Archangel
66 Levittown Parkway Levittown, PA 19054
Dave McGovern
dave_mcgovern@verizon.net 
Chester
Church of Saint Monica
635 First Avenue Berwyn, PA 19312
Rosemary Friedrich
rcfriedrich@verizon.net 
Delaware
St Katherine of Siena
104 S Aberdeen Ave, Wayne, PA 19087
Robert Giuliano
robertgiuliano@gmail.com 
Delaware
Bonner Prendie
403 N. Lansdowne Ave, Drexel Hill PA 19026
Fr. Anthony Raymundo
father.raymundo@bonnerprendie.com 
Montgomery
Holy Martyrs Church
120 Allison Road Oreland, PA 19075
Christine Napiecek
chrisnapiecek@gmail.com 
Chester
Pope John Paul II High School
181 Rittenhouse Rd
Mr. Allen
callen@pjphs.org 
Pennsylvania
Roman Catholic Highschool
301 N Broad St, Philadelphia, PA 19107
Jeffrey Shields
jshields@romancatholichs.com 
Bucks
Saint Andrew parish
81 Swamp Road, Newtown, PA 18940
Michael Phillips
mikeflips@yahoo.com 
Montgomery
Martin Saints Classical High School
121 Allison Road
Adam Dickerson
adickerson@martinsaintsclassical.org