Part of our chapter's ministry is to focus on the spiritual needs of our members, and to help them look to Our Lord and Our Lady for strength and guidance. Following are spiritual exercises and prayers that are currently practiced during our meetings.

Spiritual Exercise
Christ calls us to take off our "old" garments of sin and despair and let him help us put on "new" garments of love and chastity.  Ask Jesus to come into your life and remove your deepest hurt – false identity, powerlessness, sin – and replace it with his unconditional love and unfathomable mercy.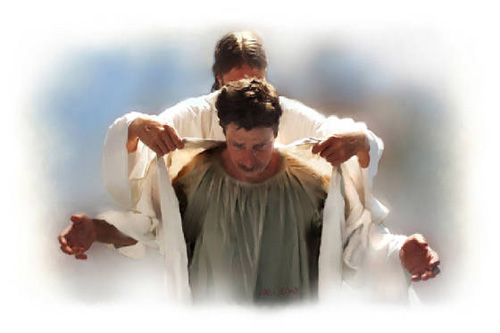 A Man's Prayer for Courage
Lord Jesus, thank you for making me a man.  I am willing to grow in my own masculinity, so please show me how to take the next step in this journey.  Give me the courage I need to relate truthfully to other men.  With your help, I am willing to face my fears.  Amen.
---
The Memorare

Remember, O most gracious Virgin Mary, that never was it known that anyone who fled to thy protection, implored thy help, or sought thine intercession was left unaided.
Inspired by this confidence, I fly unto thee, O Virgin of virgins, my mother; to thee do I come, before thee I stand, sinful and sorrowful. O Mother of the Word Incarnate, despise not my petitions, but in thy mercy hear and answer me.  Amen.
---
Chaplet of Divine Mercy

1. Begin with the Sign of the Cross, 1 Our Father, 1 Hail Mary and The Apostles Creed.
2. Then on the Our Father Beads say the following:
Eternal Father, I offer You the Body and Blood, Soul and Divinity of Your dearly beloved Son, Our Lord Jesus Christ, in atonement for our sins and those of the whole world.
3. On the 10 Hail Mary Beads say the following:
For the sake of His sorrowful Passion, have mercy on us and on the whole world.  (Repeat step 2 and 3 for all five decades).
4. Conclude with (three times):
Holy God, Holy Mighty One, Holy Immortal One, have mercy on us and on the whole world.